I often recommend painting in a series whenever trying out something new - a new subject matter, a new color palette, new materials, new lighting effects - new anything. This way you can experiment with all the various permutations of your new interest, compare and contrast, tweak, push, maybe improve upon. My latest series is an exploration of depicting the effects of different kinds of lighting sources upon what is being painted. I call it my "Nightlight Series:"
The painting "Rainy Night on Bourbon Street" is the one that started this series. I had not painted many nighttime scenes before, never mind a rainy nighttime scene, and this was an experiment. I enjoyed doing it and liked the results pretty well, but I wanted to experiment some more: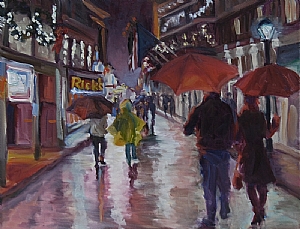 "Cowboy on Bourbon Street" was the second in the series, and I paid more attention to the effects of the garish New Orleans artificial lighting upon the dark wet streets and figures: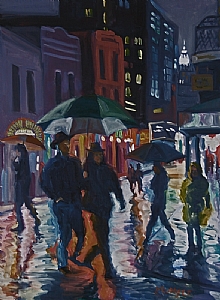 Taking the atmosphere of artificial lighting inside, I painted "Rock Band" and "Rialto Blue"-such fun!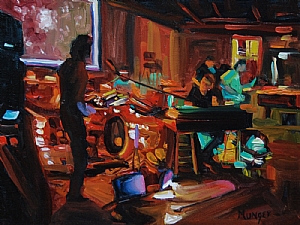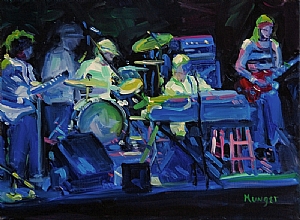 Tried it on a stage performer (she said she loved it!):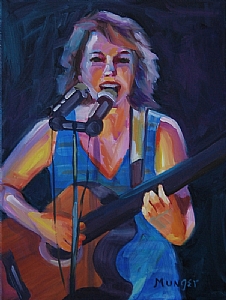 Then two images from France: "Lunch Counter, Lyon" (strictly speaking, this was not a night scene, but the same effects from artificial lighting are seen bouncing around the figures and the counter, with the additional effect of the reflective metal counter surface...
...and "Villa Spicy, Paris", which had artificial lighting outside and inside the restaurant, plus colorful neon lighting versus the cold outside lamplights. Fun, fun, fun!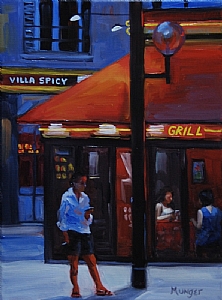 Painting this series was very helpful to me. I will have to admit that, by now, I am SO enjoying just concentrating on a pretty white cat in a normal outdoors setting - without worrying about anything other than the normal sunlight vs shade thing, light and shadows, etc. But, what a great learning experience the series has been! I recommend it and I will do it again.