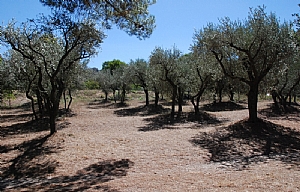 Olive trees growing in Saint Remy
Just returned from a lovely cruise down the Rhone River, through Burgundy and Provence. As advertised, the wine was wonderful (so I was told), the historic sites were fascinating, and floating down the river was peaceful and soothing. Took many pictures!
But the part of the trip that most affected me was the visit to Saint Remy, home to Vincent Van Gogh, in relative good health, and in near insanity. First of all, to artists reading this, the light in Saint Remy was fabulous - bright but not harsh...glowing, almost. The tour guide said she was told that the sunlight bouncing off an abundance of limestone in the soil causes the almost mystical, fairytale, beautiful illumination all around. Not sure if that is the case, but the result was magnificent.
Secondly, we were able to walk through the streets and the vineyards, and into the olive groves, and past the mission arches and hyacinths that were the everyday surroundings for Van Gogh with his troubled soul. The sicker he got, the more prolific he became, painting this scenery over and over, although only one of his paintings sold during his short lifetime. The olive trees in the photo above grew behind the sanitarium operated by the sisters of the mission, and he painted them over and over. To quote Van Gogh,"To paint nature, one must live in it a long time." And you will see that his painting of these olive trees was not meant to exactly depict the olive trees he saw, but the frenzied emotion they inspired in him. This is the kind of art that holds the most interest for me - not necessarily photographically accurate (although that is quite a feat to accomplish), but reflecting the scene as it strikes the artist emotionally, in a way that will translate to the viewer.
Incidentally, we were also told that the reason so many of this artist's paintings near the end of his life had so much of the color yellow in them is because the doctors were giving him digitalis as a treatment, which made what he saw look yellow. They really didn't know if this medicine would help him, but they had tried everything else, I guess. For him it must have been like painting while wearing yellowish sunglasses.
I found it moving to see the scenes nearly exactly as they were seen through the eyes of this artist so many years ago. Just not so yellow.